From 27-29 June, I was at a conference on the Circular Economy (CE). More specifically, it was titled "Sustainable Lifestyles, Livelihoods and the Circular Economy" –  hosted by the Global Research Forum at the University of Sussex (SPRU/IDS).
By the way, if you question the 1:1 mapping of the Circular Economy notion to the EMF, read on as there was vigorous debate about this at the conference.
My reason for attending was ITM alumnus Lorena Garcia, who was presenting our work on a CE readiness framework for developing nations, focussing on Colombia. This was very well received and Lorena made many valuable contacts. She is already having an impact on the world through her work with the Americas Sustainable Development Foundation, and I expect this is just the start…
The conference was a diverse mix of academics, politicians and practitioners. The disciplines ranged from engineering, economics, policy and sociology – and even philosophy. I was impressed by how much practical experience there was. For example, Sonia Dias and Nalini Shekar are working with informal waste pickers in Brazil, India and elsewhere. Anna Phelan is trying to protect the Coral Triangle from destructive fishing (which no-one will admit to doing, naturally). She is promoting the view among fishermen that "Healthy Marine Ecosystems are like a personal savings account". Michael Kuhndt has created a 'living lab' Circular Home. Jacqueline Cramer, former Dutch Minister, talked about implementing CE in Amsterdam (with a particularly daunting image, which I tweeted, of the community of practice involved).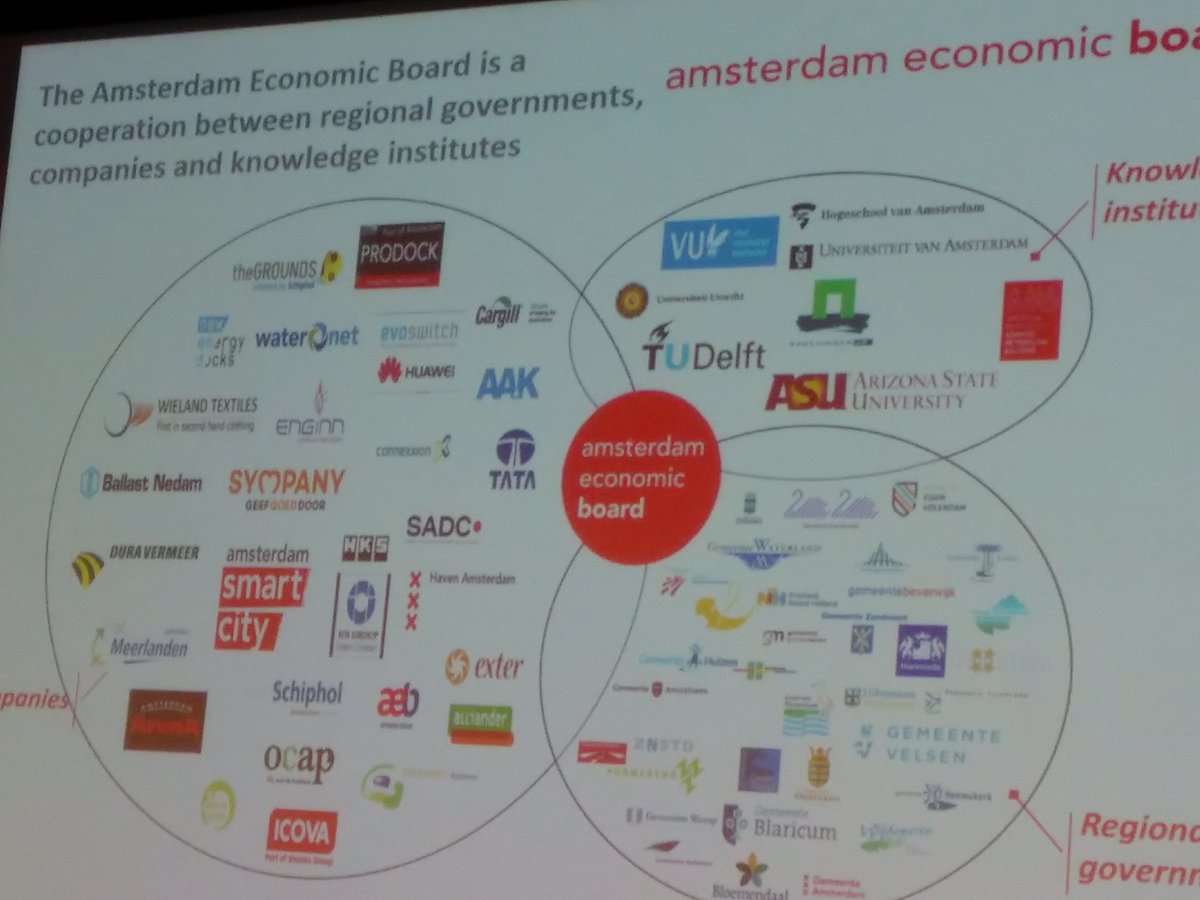 There were also presentations linking practice to theory. Monique Retamal (Australian National University) explored ways in which the sharing economy leads to a more circular economy (answer: sometimes!). Robert Lindner (United Nations University) showed how the Japanese tsunami knocked out 20% of Tokyo's energy, and thus acted as a 'burning platform' for behavioural change – but required government action to sustain that change. That said, change can often be local, emergent and unplanned and perhaps we need ways to think about this.
There was also some good theory presented. Tim Foxon (SPRU) explained how complexity theory can be used to help understand 'lock in' of institutions to a 'linear' world. I also met Julia Steinberger (Leeds) –  I was struck by how physicists are bringing their expertise to the field of ecological economics (as opposed to environmental economics) – I need to read more.
There was also some provocative discussion. For example the "Waste is a Resource" narrative may lead to being 'locked into' recycling. Even "Zero Waste" may encourage planned obsolescence. Ana Poças Ribeiro (Utrecht University) argued that we need not just to create 'circles' but to reduce the scale and speed of these circles. On the last day, the panel discussed the degrowth perspective – a potentially radical position which is perhaps at odds with the EMF vision. Does business as usual ultimately lead to a feudal system?
The conference concluded with a brilliant (imo!) session on innovative teaching for sustainability. The general focus was on immersive, personally meaningful, reflective learning. For example, rather than just learning about sustainable supply chains students are challenged to explore what it means for them personally. There were lots of good ideas including role play, 'theatre', critical engagement, real world practice, productive failure, personal projects and more. The idea is, I hope, that there will be a network of best practice teaching on Sustainable Consumption. I am aiming to promote this network at ESLTIS 2017.